Is Rice Flour Gluten Free: A Burning Question of Today
If you are on a gluten-free diet, you have tons of opportunities for your food choices. You can enjoy the tastiest baked goods, pies, pizzas, or even sweets without worrying about gluten and its potentially dangerous consequences.
There are many gluten-free flours you can find on the market. The most popular options include almond, chickpea, buckwheat, quinoa, and more, and you can use them to make the most delicious meals with peace of mind. Apart from being free of gluten, these flours are higher in fiber, vitamins, and minerals that play a significant role in our overall health.
But what about rice? Is rice gluten-free? Keep reading to find out more about this super ingredient and its role in a gluten-free diet.
Rice flour is a type of flour made from finely milled rice. It is commonly used as a substitute for white wheat flour due to its rich nutritional profile, and it's a convenient choice for those who want to lose weight or improve their eating habits.
Rice flour can be made from either white or brown rice. Both options are suitable for baking, allowing you to bake excellent pies, pizza crust, and baked goods you'll enjoy.


Although rice is a grain, it is gluten-free. That said, you can enjoy it as much as you want, even if you are on a gluten-free diet. All rice is free of gluten, including white, brown, or wild rice.
Most gluten-free products contain rice instead of wheat but bear in mind that not all rice-based foods are gluten-free. It is essential to check the product label prior to buying it and see whether it is certified gluten-free.
Rice-Based Products vs. Rice Flour
If you are gluten intolerant or have celiac disease, you should be careful when buying products marked as rice-based. These foods often contain spices, sauces, and other flavors and ingredients that might have gluten (wheat, rye, barley, etc.). Therefore, all people with gluten disorders shouldn't consume the product unless labeled "gluten-free."

On the other hand, rice flour often contains only one ingredient free of gluten or flavor enhancers, making it safe to consume.


Gluten-Free Rice Flour Overview
Rice flour is an excellent substitute for white wheat flour in a gluten-free diet. Different types of rice can be used in flour, but the most popular choices include white and brown rice. While both options are convenient for cooking and baking, there is a slight difference between them, which lies in processing and nutritional profile.
Brown rice flour is made of brown rice, which is a whole grain that undergoes little change from its original form. Therefore, it retains all three parts of the grain, providing a higher nutritional value and fiber content.

As for white rice, it begins as a whole grain, but it undergoes further processing where some parts of the grain are removed. This gives it its white color and a more delicate texture, but unlike brown rice, it has a lower nutritional value.
For example, one cup of brown rice flour contains 11.4 grams of protein and 7.3 grams of fiber, while a cup of white rice flour has 5.9 grams of protein and 2.4 of fiber. As for micronutrients, brown rice has three times the amount of iron and five times as much phosphorus, magnesium, B vitamins, and zinc.
Despite these differences, both rice flour options are convenient for a gluten-free diet. However, it is essential to read the label before buying a particular product and check whether all the ingredients are gluten-free.
If you don't know where to look, consider the following products from Hearthy Foods and enjoy your favorite bagels, muffins, and pancakes.
Hearthy Rice Flour ($19.99)
A Hearthy Rice Flour is an excellent addition to your gluten-free diet. It's a tasty and 100% natural ingredient you can use to bake fresh bagels, muffins, pancakes, and or sweet desserts you can enjoy with peace of mind.
Our award-winning product is an excellent source of carbohydrates, providing enough energy to go through the busy day at work or complete a workout. It contains only one ingredient – milled gluten-free white rice, which makes it convenient for vegans, vegetarians, and celiac disease or other gluten disorders.
Hearthy Whole Grain Brown Rice Flour ($19.99)
A fresh Hearthy Whole Grain Brown Rice Flour is all you need to make the most delicious breakfast treats, comfort foods, and desserts. Apart from being an excellent substitute for white wheat flour, this superfood is delicious and convenient for vegans, vegetarians, and gluten-free supporters.

Brown rice flour from Hearthy Foods contains only one ingredient, freshly milled to deliver a unique taste and keep its macro and micronutrients. This gluten-free flour has no traces of soy or dairy, so it's convenient for everyone.


Benefits of Eating Rice Flour on a Gluten-Free Diet
Rice flour has significant health benefits due to its rich nutritional value. While it is high in carbohydrates, it is low in protein and fat, so it is an excellent source of energy.
People on a gluten-free diet should be careful when creating a diet plan, making sure they include foods rich in essential nutrients. Cutting out wheat and whole grains may result in low levels of calcium, zinc, magnesium, iron, fiber, vitamin B-12, vitamin D, iron, folate, etc. Eating rice and rice flour can compensate for the amount of nutrients in whole grain, so it is recommended to include them in your regular diet.


Benefits of Brown Rice Gluten Free Flour
Being made from whole grain, brown rice flour is an excellent source of fiber, vitamins, minerals, and antioxidants. Brown rice is generally high in iron and potassium, which is another significant benefit of its consumption.
Brown rice gluten-free flour may be advantageous for heart health. It is considered a low glycemic food, which may help control blood sugar levels in people with type 2 diabetes when eaten in moderation. Besides, it can help regulate bowel function and prevent different types of cancer.


Benefits of White Rice Gluten Free Flour
White rice has undergone processing, which led to its white color and slightly softer texture. It lacks some valuable nutrients such as dietary fiber, fatty acids, B vitamins, and iron, but it is still excellent gluten-free food.
White rice flour is the number one gluten-free flour you can use in various recipes. You may combine it with other gluten-free flours to get a richer texture and more enhanced flavor you'll enjoy.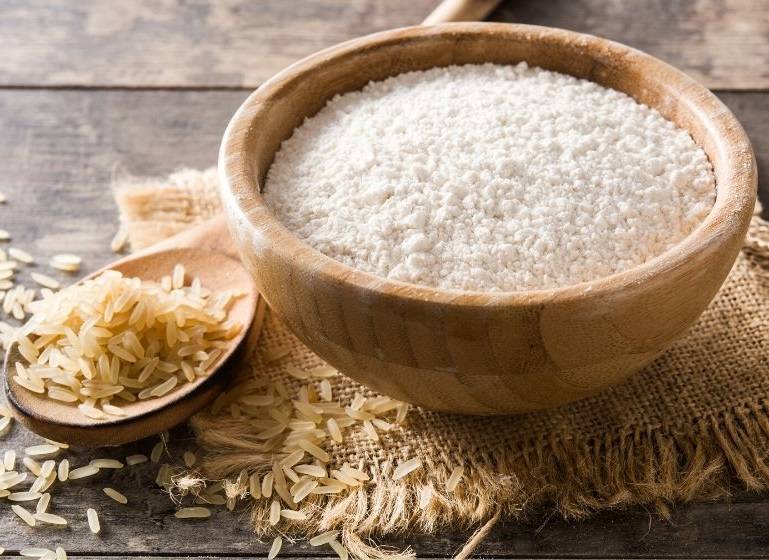 Baking with Rice Gluten Free Flours: Tasty Rice Flour Recipes & Unique Ideas
You may use rice flour to take your baking skills to the next level. Once you combine it with other gluten-free ingredients, you'll experience a whole new dimension of unique flavors you'll never get tired of.
Consider the following facts before you start baking with rice flours:


White rice flour has a milder texture and a more neutral flavor than brown rice flour, which tends to be a bit nutty.

Brown rice flour is slightly heavier than white rice flour, and that's because it is made from whole grain. While it is a superb option for bread, brownies, and cookies, it is not the best choice for airy desserts.

Both white and brown rice flours have a grainy texture compared to white wheat flour.
Rice Flour Pancakes: A Gem of Gluten-Free Baking
Who doesn't like pancakes? Even if you're allergic to gluten, you can enjoy this evergreen dessert that comes in so many forms and flavors.
Apart from being incredibly tasty, rice flour pancakes are healthier than classic desserts made with white wheat flour. You can eat them for breakfast one or two times a week and serve it with maple syrup, fruit, honey, or any other ingredient you prefer.
Let's see how to make the tastiest rice flour pancakes suitable for your gluten intolerance or celiac disease:


1 cup Hearthy White Rice Flour

½ cup milk (you may use almond, oat, and plant-based kinds of milk, too)

1 tablespoon vegetable or coconut oil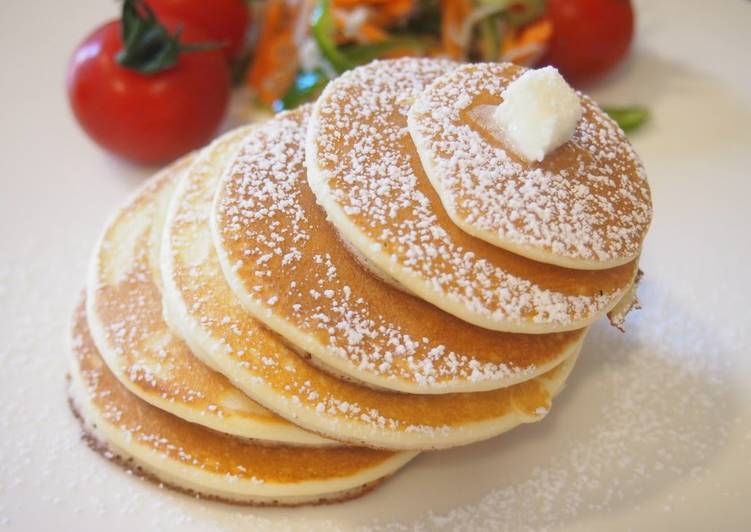 Procedure:

Step 1:
Beat the eggs in a mixing bowl. Stir in the milk, oil, and salt. Whisk in the rice flour and lemon zest until there are no lumps. Cover the bowl and let stand at room temperature for one hour or in the refrigerator overnight.

Step 2:
Lightly oil a flat griddle pan and heat it over medium-high heat. Drop batter by large spoonful onto the griddle and cook until bubbles form and all the edges are dry. Flip and cook until the other side browned.

Serve rice flour pancakes with maple syrup, blueberries, apple and cinnamon, and or any other dressing you like. Bon Appetit!


Let's take a look at the most commonly asked questions regarding rice flour and its gluten content:
Does Rice Flour Have Gluten?
Rice flour made from 100% white or brown rice doesn't have gluten. You may find a "gluten-free" label on these products, and it means that they are entirely safe to consume. However, be aware of rice products you may find on the market since most of them have artificial flavors or ingredients containing this potentially harmful protein.
Is Brown Rice Flour Gluten-Free?
Yes, brown rice flour is gluten-free.
Is White Rice Flour Gluten-Free?
Yes, white rice flour is gluten-free.
Hearthy Foods – A Leading Gluten Free Flour Manufacturer in the USA
Hearthy Foods is a leading company focused on producing natural and gluten-free products suitable for gluten intolerance and celiac disease. We offer an array of gluten-free flours, cookie mixes, and dietary supplements made from natural and organic sources. We can proudly say that all our products are halal and kosher certified so that everyone can benefit from their consumption.
Visit our official website or find us at the nearest store to see what else we offer besides award-winning gluten-free rice flours.


---